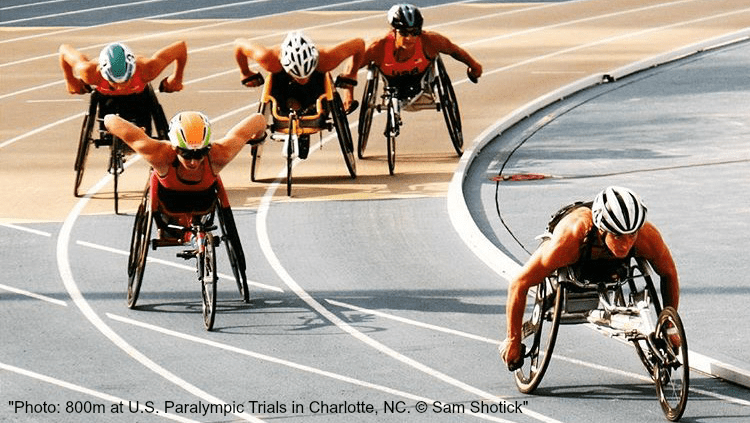 Amanda McGrory (Beijing '08, London '12, Rio de Janeiro '16) and Dr. Anjali Forber-Pratt (Beijing '08, London '12) were diagnosed with transverse myelitis at a young age. Anjali is also a member of SRNA Board of Directors.
Paralympic fever is upon us, and we wanted to share some of our current and past Paralympic experiences and encourage you to support Amanda McGrory and others from the TM, NMOSD, ADEM community who will be competing on Team USA in the Rio games.
Getting involved in competitive activities 
AFP: I got sick with TM as a baby at 4.5 months old in November of 1984. I was first introduced to the world of disabled sports when I was five years old. I was intrigued by seeing wheelchair racers competing in the Boston Marathon and wanted to get involved. I was so blown away by seeing wheelchair racers in the marathon that I dressed up on Halloween as the winner of the Boston Marathon for many consecutive years! There was a weekly Saturday sports clinic for kids with disabilities about 45 minutes away from my parent's house at the Massachusetts Hospital School in Canton, MA. At this clinic, I had the opportunity to try nearly every sport possible and took a strong liking to both track and downhill skiing. By the time I was nine years old, I went to compete at my first Junior Nationals hosted annually by Adaptive Sports USA for youth with disabilities.
AM: I was diagnosed with TM as a kindergartener in 1991. After noticing that I was struggling with my transition from able-bodied kid to wheelchair user, my parents started searching for ways to get me more involved in the disability community. They finally stumbled upon a grassroots wheelchair sports program starting up in Philadelphia, and after one practice, I was hooked. Despite being a scrawny little pipsqueak, "tenacious" is a word that was often used to describe me early in my sports career, and eventually that tenacity paid off, securing me an Athletics Scholarship to the University of Illinois in Urbana-Champaign.

Games experience
AFP: I made the decision to attend college at the University of Illinois in Urbana-Champaign, known for its accessibility and disabled sports programs. While there, actually just after I started graduate school, I decided to get more serious about my racing career and made my first national team in 2007 representing the USA at the Parapan American Games in Rio that year. I then was fortunate enough to earn a spot on the Paralympic Games team for Beijing in 2008 where I raced in the 100m, 200m, 400m and 4x100m relay and came home with two bronze medals in the 400m and 4x100m relay team with Amanda McGrory. If you can even imagine walking into a stadium of 91,000 screaming fans are all there to support you, your dream.
The experience was incredible. It was literally a longtime childhood dream come true. I also competed on Team USA in London at the 2012 Paralympic Games in the 100m, 200m and 400m. And while London did not go the way I had hoped athletically, I came home with my best finish being 5th in the 200m, one of my most treasured memories from London is that two female athletes in my division (T53), one from Bermuda and one from Ghana, I had helped mentor and to get them involved in sports several years before, and they both were there on the start line for
all my races!
AM: Like Anjali, my "competitive sports" career really began at the University of Illinois. Although the scholarship I received was basketball specific, I was able to dedicate my off-season to the wheelchair track team. Frustrated with lack of progress in my racing career, I decided it was time to focus more on basketball. Fast forward two years, lots of long conversations, and one gigantic bribe later, and all of the sudden I was a marathoner. I felt like I had finally found my calling as an athlete, and slowly, basketball, as well as my dreams of becoming a gold medalist sprinter, took a backseat to long distance racing. I qualified in 2008 (with Anjali) for my first Paralympic team, and was 100% pumped to race in Beijing. I returned home with four medals, including a gold in the 5000m (silver in the marathon, bronze in the 800m and bronze in the 4x100m relay).
I spent the four years between games traveling the world and racing marathons, which has to be one of the coolest jobs ever. Unfortunately, despite qualifying for the London 2012 Games and feeling strong in the lead up, I came home empty handed – my best finish being 4th place in the marathon. Dis-appointed as I was in my performance, it gave me a good opportunity to reflect back on my goals, and set new ones for the future.

Challenges in the lead up to 2016 U.S. Paralympic Trials 
AFP: I shared in a previous SRNA Blog about some of the medical complications I have had since competing in the London 2012 Paralympic Games. The short version is that since September of 2012, I have had five major spinal cord surgeries, and celebrated one year without any surgeries or hospitalizations a few weeks ago at the end of June 2016. That said, I can honestly say that I never in a million years thought that competitive wheelchair racing back at the Paralympic-caliber level was ever going to be a reality again. Having fought hard to simply regain basic life functioning and to have stable health, I was not sure that my body would tolerate the seating position in a racing wheelchair again, or if it would cause spikes in my nerve pain, or increase of spasms or what.
Despite all of this uncertainty, once my health did finally stabilize, I began to realize just how much I missed com-petition and training and being active. I went to see Amanda McGrory and my coach Adam Bleakney at the University of Illinois, also now a Paralympic Training Center, in February to see if I could tolerate just sitting in a racing wheelchair again. I was extremely lucky to find out that I could!
When I left Champaign in February, I was thrilled just to have this small piece of my past back again in the forefront. I started training again, not as rigorous as I would have liked, but I was also trying to be cautious to not create more medical problems for myself and to truly ease back into it. I built up my tolerance which started as only being able to sit in the racing chair for no more than 10 minutes at a time and slowly increased to being able to tolerate an hour+. I began pushing regularly about three times a week. In May, I wanted to get a benchmark of where I was at in terms of a time on the track, just for me. I competed in the Dixie Games in Florida, and surprised myself that I ran an entry standard for U.S. Paralympic Track and Field Trials. I knew I was a long way off from a national standard to qualify for Team USA, but considering the years of uphill battles, to simply qualify was an incredible feat to me.
AM: Though not specifically medical in nature, I too had a handful of athletics-related frustrations and setbacks in the lead up to Trials. After my botched performance in London, I had difficulty regaining my stride again. My confidence was shaken, and my performances inconsistent. I felt like I was putting a lot of time and effort into training, and not seeing any results. Conversations with friends (including Anjali) and my coach, finally convinced me that it was time to make some drastic changes. For the first time in almost 10 years I changed up my equipment, adjusted my training plan, gave up on my pescatarian diet, and even applied to graduate school. It was a whole life refresh, and it WORKED. I was training well, putting up some of the fastest times of my career, and for the first time in four years, genuinely excited about racing.

U.S trials and team selection 
AFP: After quite a bit of thought and reflection on whether or not I should go to trials or not, I decided, why not? What did I have to lose? I was grateful for my friends, including Amanda McGrory, and supporters who encouraged me to see it through. The struggle for me was that I did not want to be an athlete showing up at the most important meet in the U.S. this season without having put the work in to get there, or look like I was coming out of the wood-work with expectations of making the Paralympic team without having been at several other key competitions throughout the season and recent years. Thankfully, my friends pointed out to me that the life circumstances and the medical complications I was facing were to blame, and that I had put a lot of work in just to get back into a racing chair and to run an entry time.
For me, going to trials was a personal journey and something that I chose to follow through not with expectations of making the team, but rather to prove to myself that I could reclaim my life, finish the race and have fun. I raced in the 100m at trials, and I finished the race and had fun. Even though I did not make the Rio Paralympic team, I hope this is just the beginning of a new athletic chapter for me.
AM: Whoa! Trials time! After a great racing season, I couldn't wait to test my fitness and see how I stacked up against the rest of the American wheelchair racers. For the first time ever, each and every event I competed in had at least five talented athletes competing for only three Paralympic slots. Although this put a little more pressure on me to perform my best, I was confident that my training and performance from earlier in the season would put me in a position for success. After three super competitive days of racing, the team was announced. My top three finishes from the weekend secured me start rights in the T54 women's 800m, 1500m, and 5K. Add in qualifying times from earlier in the season for the marathon and the 4x400m relay, and that's a pretty full schedule!
Looking ahead to Rio
AM: Every Olympic and Paralympic Games is surrounded by its fair share of controversy and media drama starting from the day the selection is announced, all the way through the closing ceremonies. For anyone who has watched the news or read a newspaper in the past few months, it comes as no surprise that the Rio Games have not been exempted from the trend. Crime, pollution, Zika…and the list goes on. As an athlete, the best thing I can do in this situation is focus on the things within my control, rather than those that are not. For the next two months, I will eat, sleep, and train to be as strong and prepared as possible to face off against the best athletes from around the world.
For the first time ever, NBC has signed on to broadcast a record number of events from the Paralympic Games. Additionally, each and every event in every sport will be live webcast around the globe. If you've never had the opportunity to watch elite adapted sports, I strongly recommend you check it out. I promise, it will be like nothing you've ever seen.
Good Luck to U.S. Paralympic Track & Field Athletes Competing in Rio 2016! 
---
Amanda McGrory
Twitter: @alittlechipped | IG:  alittlechipped | fb: mcgrory.amanda
Diagnosed with: Transverse Myelitis
Classification: T54
Rio Events: 800m, 1500m, 5000m, 4x400m relay, marathon
---
Dr. Kerri Morgan
Diagnosed with: Transverse Myelitis
Classification: T52
Rio Events: 100m, 400m
---
Rachel Morrison
Diagnosed with: Transverse Myelitis
Classification: F51

Rio Events: discus and club throw
---
Steven Toyoji
Twitter: @steventoyoji | IG:  sstoyoji | fb: Team-Toyoji-44477058569434
Diagnosed with: Transverse Myelitis
Classification: T52
Rio Events: 400m, 1500m
---
James Senbeta
Twitter: @SenbetaJ
Diagnosed with: Transverse Myelitis
Classification: T54
Rio Events: 800m, 5000m, Marathon
---
Dana Mathewson
Diagnosed with: Transverse Myelitis
Classification: T10 Paraplegic

Rio Events: Women's Open Singles and Doubles Tennis
---
https://wearesrna.org/wp-content/uploads/2016/09/2016_09_08.png
500
750
SRNA
https://live-myelitis.pantheonsite.io/wp-content/uploads/2019/10/Logo_Full.png
SRNA
2016-09-08 16:35:20
2018-06-14 13:50:23
Our Paralympic Experience