Coming to America
Abhijit Ganguly
In 2003, I was diagnosed with TM. I had never heard about this disease. The doctor at the hospital told me, "It's an infection in the spinal cord."
Later, I went to a veteran neurologist for follow up. When I asked him about the disease, he said, "You had a disease, and now you are better. It's the job of a doctor to know about the disease. You shouldn't worry so much." I was frustrated. I was depressed. Finally, I went to a nearby cyber cafe. I typed 'Transverse Myelitis' and found SRNA website. I wrote an email. I thought I wouldn't get any response, but I did! That was how I met Sandy Siegel. After a couple of years, I became the Support Group Leader of India.
Sandy has been a rock for me.  He's always been there for me.
A few years ago, David (Sandy's son) and his wife, Kat, visited India to attend the wedding of one of their Indian-American friends. It was in a city on the western side of India. I live in Kolkata, on the eastern side. Sandy arranged airline tickets for me so that I could spend a couple of days with David and Kat. It was my first flight! When I hugged David goodbye, deep down I was missing Sandy. I wanted to meet him. Little did I know that Sandy would create the opportunity for me to experience another 'first' in my life.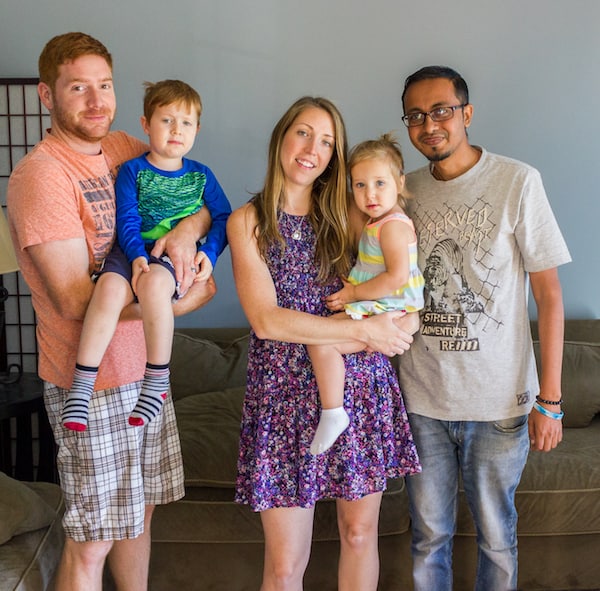 At the end of July this year, I finally got the opportunity to meet and visit with Sandy! I still can't believe I was there! It was an amazing experience. I will never be able describe my feelings in words. I got to meet Pauline. What a lovely sweet lady she is! I got to see her classroom and her school. She is very caring. I got to meet Kazu. I had seen photographs of Kazu but it was very different to finally meet him.
I experienced so many 'firsts' during this trip … flavored water, peanut M&Ms, a peach, pancakes (chocolate pancakes – Pauline's favorite), a burrito – there were so many!  I made my own salad for the first time! I got to meet Sandy's mom. She is an awesome person. We went out to lunch and she was very eager to learn about my culture and life in Kolkata.  We got to see her apartment. Sandy took me to a book store and got me a couple of novels from his favorite author, Kurt Vonnegut.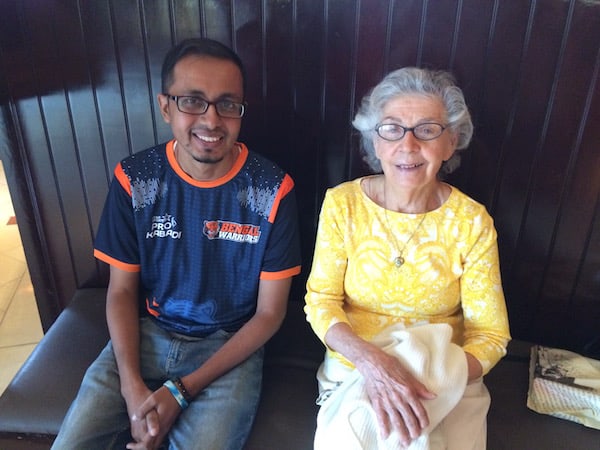 Sandy drove me around Columbus. We visited the Ohio State campus which was huge.  Sandy, Pauline and their children all went to OSU. We went to a beautiful park and took a long walk in the woods along a river around sunset.  Sandy also took me to downtown Columbus.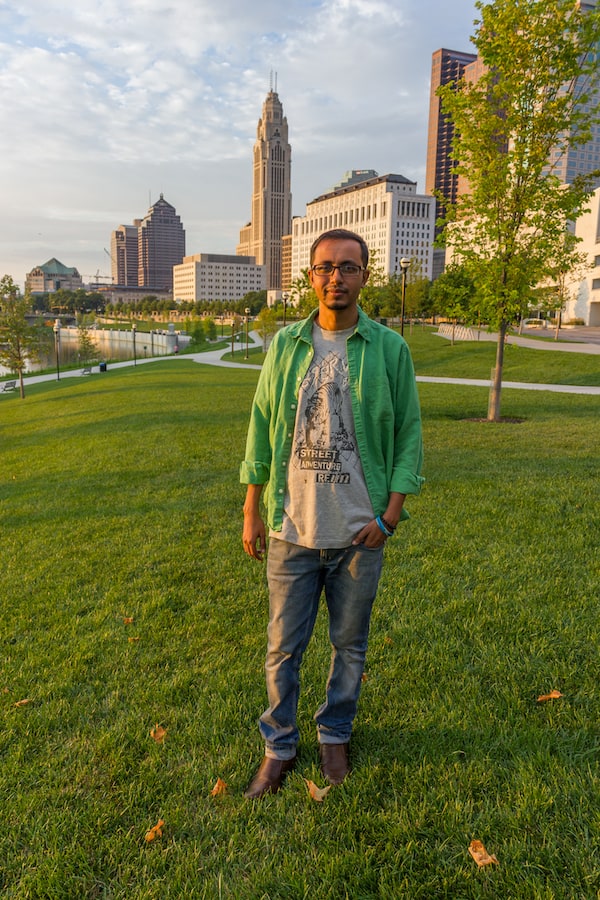 We went to the Columbus Zoo with David and his kids (Leo and Stella). It was a great experience. And we had Dippin' Dots ice cream!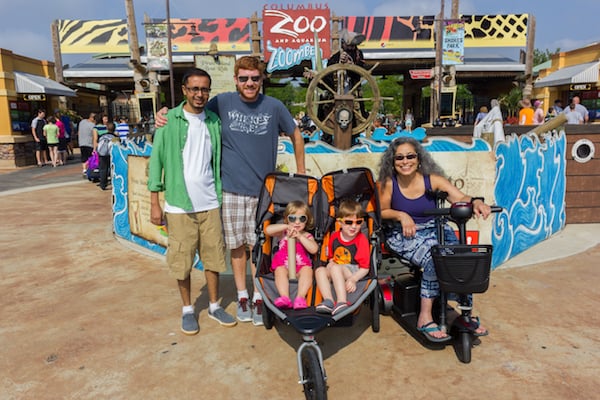 There were people from around the United States and Canada who knew that I was coming to the US. They made a trip to Columbus to spend a couple of days with me. One evening we met at a restaurant and spent the evening together. It was very emotional for me. I got to meet Sally Franz, my TM friend who has always guided me with my writing (I write a blog called Kolkata Konnector). She said a prayer for me for when I was going through tough times. I spent a day with Sally. She took me to a park and to a nice restaurant, and we went to see the new Star Wars movie, and watched it in reclining seats! Mindy King, who is one of my first TM friends, also visited me with her husband, Larry. She has been a great friend – always there for me. I got to meet Sheila Gaspar whom I call my 'Canadian mom.' We have been talking to each other practically every day for many years. Finally, I got to give her a "real" hug. I got to spend a day with her, her husband Kenny, and her cute granddaughter Riley. They took me swimming for the first time in a hotel swimming pool and Sally taught me few simple swimming techniques. Josie sent me a very generous and kind gift while I was in Columbus, and I love the Little River Band t-shirt Rich sent me.
I came to the United States to attend SRNA family camp at The Center for Courageous Kids. I drove down with Pauline, Kazu and Sandy. It was just amazing for me to be at camp with so many people who have the same diagnosis that I have. It was like being with one big family. The kids were so inspiring. Everyone was so friendly and so positive.
I got to meet my dear friend, Debbie Capen, from SRNA, and her husband, Michael. Debbie and I have been friends for a long time. It was a great feeling to meet her in person. She often checked in on me at camp to make sure I was okay. It was wonderful to see Dr. Anjali Forber-Pratt. I had met her few months back when she was in Kolkata. This time I also got to meet her service dog, Kolton. I met Roberta Pesce of SRNA in person. I have been communicating with her over emails for SRNA work. It was great to finally meet her in person. It was so nice to meet GG and Timi of SRNA.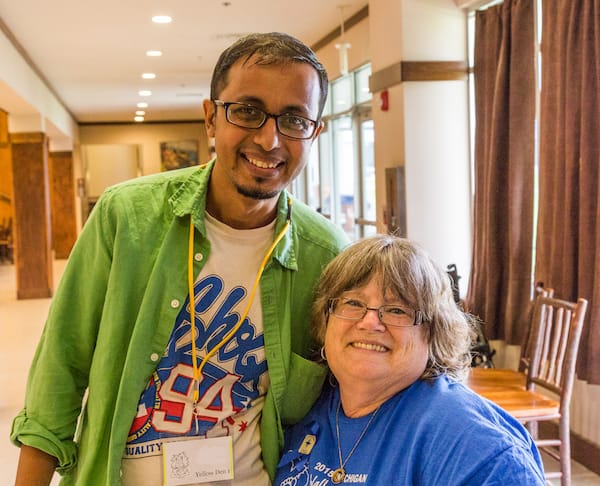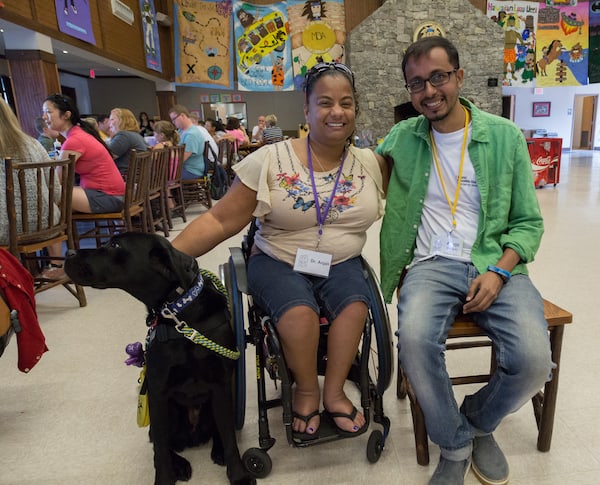 I was very much looking forward to the education program and to meeting the doctors. The education program was so informative. It was nice to see how the doctors were so friendly with everyone. And it was just amazing watching the doctors playing messy games with everyone! The interaction between the doctors and the families and children was really touching.
I met Dr. Sara Qureshi who is from Pakistan. She spent a lot of time with me talking about my issues and also answering a lot of my questions. She is such a caring doctor and a good person.  It was very special getting to meet Nancy and Bill and their kids. They are Native Americans and live on a reservation in Montana. Bill gave me a gift; one of the t-shirts he had with an American eagle. I was so touched by his generosity.
I got to do so many things at camp that I had never done before – fishing, boating and archery. The meals were great, and we had ice cream after every lunch and dinner. The volunteers at the camp were great and very encouraging. The fireworks on the last day of the camp were simply awesome.
I love music. After we got back from camp, Sandy took me to Cleveland so that I could spend a day at the Rock and Roll Hall of Fame. I was speechless – loads of information, photographs, the clothes they wore at concerts, and tons of history from my favorite musicians. I had a rocking time! We also saw the stadium where the Cleveland Browns play and Sandy took me for lunch at a bar near where his son used to live in Cleveland.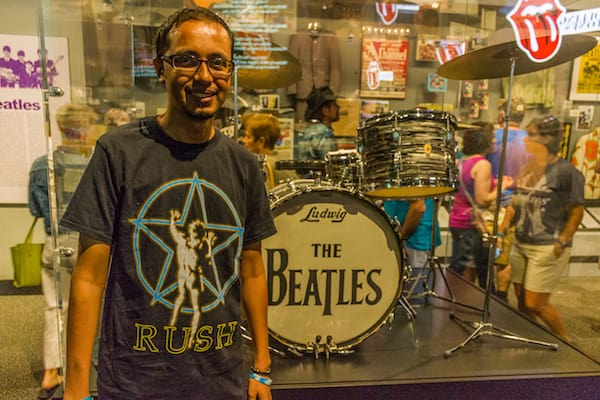 The day before I had to return to India, we spent the day with David, Kat, Leo and Stella. The kids are super cute. It amazed me how they interacted with me and accepted me so easily; like I was part of their family.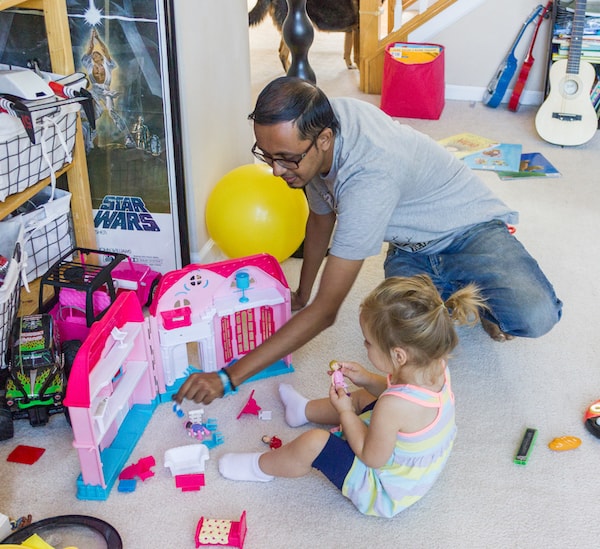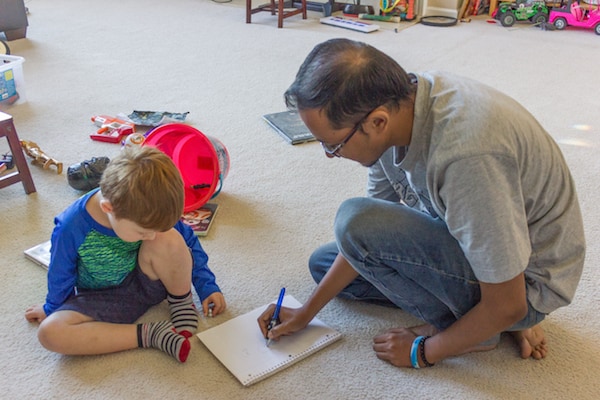 On my flight home, I had a layover in Washington DC. Chitra Krishnan, the executive director of SRNA picked me up from the airport and she took me out to lunch at an Indian restaurant. I had Bengali food!
I think about the trip every moment.
THANK YOU, SANDY. THANK YOU, PAULINE. You don't know how much this trip meant to me! It's priceless. I felt so happy meeting you in person! I left my heart there! It's amazing to see the amount of dedication you put behind SRNA work. I am so proud to have you in my life.
---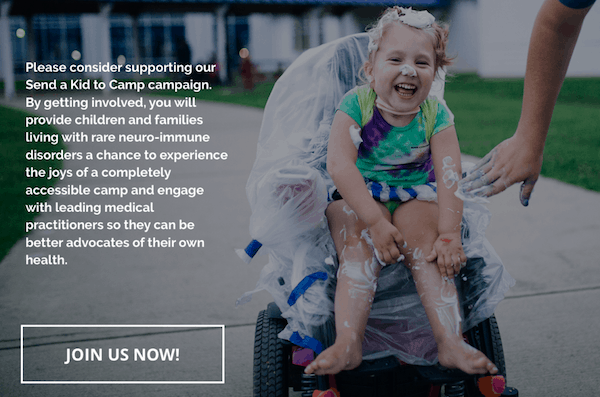 https://wearesrna.org/wp-content/uploads/2016/09/AbhijitCleveland_20160806_0055.jpg
933
1400
SRNA
https://wearesrna.org/wp-content/uploads/2020/06/SRNA_Logo_Menu.png
SRNA
2016-09-22 09:30:31
2018-06-14 13:50:22
Coming to America