"Clearly these illnesses are related, and in order to make progress in finding solutions there needs to be working together."
"Collaborative efforts always help in the band against fighting scenarios be it addictions, research, etc."
"Amazing group doing amazing work & bringing all related diseases together under one umbrella makes sense."
"By combining all rare neuroimmune disorders, we have a bigger voice to support each other and promote research and education."
"Belonging to a wider community improves meaningful social interaction and makes economic sense when it comes to research."
"We're such a small community. Standing together gives us a louder voice, more people to learn from, and more hands to hold when it gets tough."
"The conditions have commonalities both clinically and scientifically. We can learn from and support each other."
"All of these diseases are different but have similar symptoms. Being stronger together makes a better understanding of these diseases possible."
"Grouping them does help to draw attention to rare neuroimmune disorders rather than each disorder trying to get the attention on their own."
"A lot of orphans in one group have a much bigger impact on the surrounding territory than a few gathered together trying to traverse the terrain alone."
"Different disorders together facilitate comparative research and faster learnings, and enable more people to work together for shared benefits of improved patient treatment and care."
"Together I feel like our voices will be heard. We can all push for funding for research. We can all network to raise the funds needed to continue to improve our lives."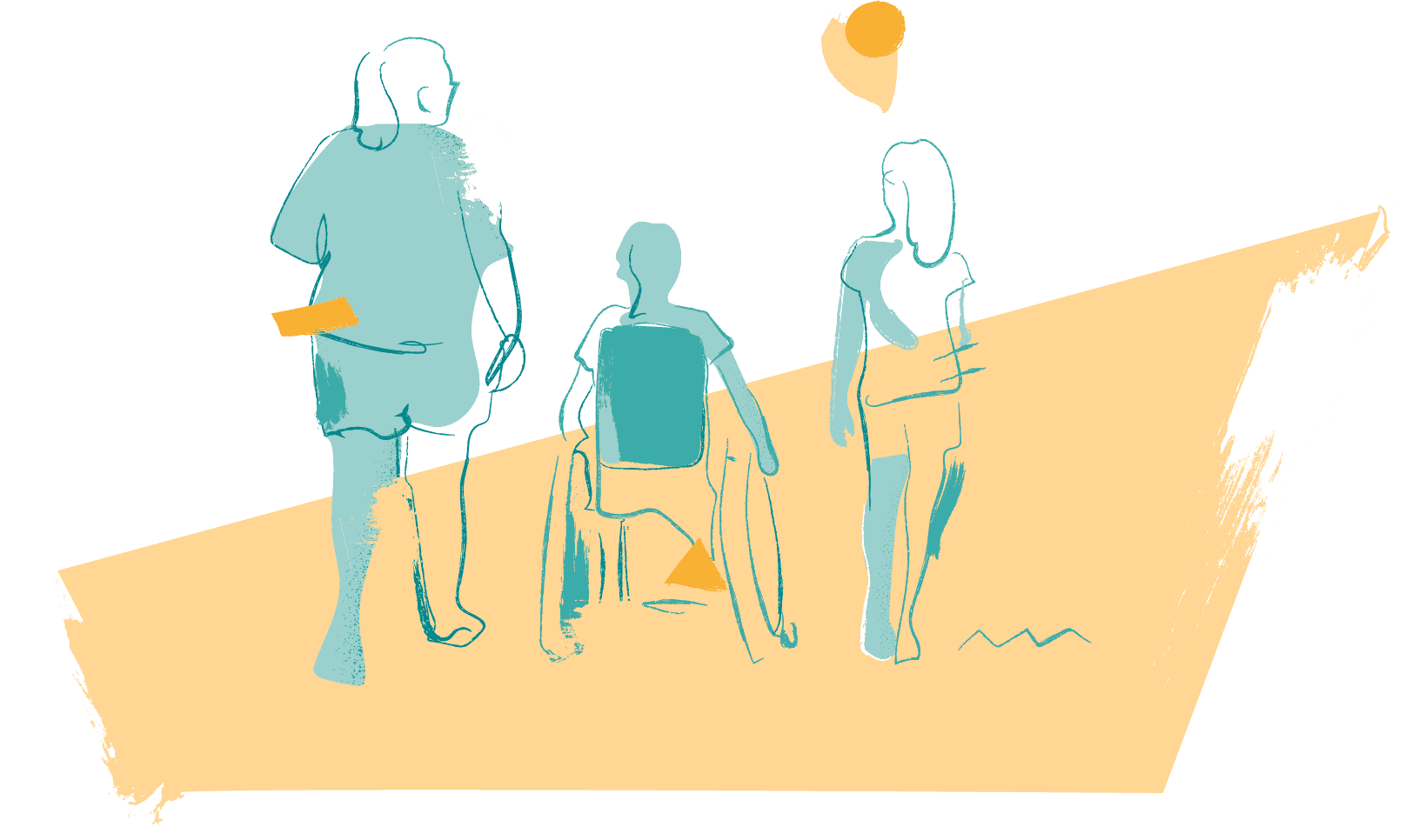 There has been no other year like it. I could list the events that have transpired since March 2020. I won't. I hope you and your family are doing okay. We've all suffered loss over this past year. Some of those losses have been the most devastating. We think about all of you and we wish the best for you in all aspects of your lives, starting with your health and the health of your family.
I am proud to present the Siegel Rare Neuroimmune Association Annual Report to share all our activities, events, and accomplishments from 2020. I am so proud of the SRNA staff and our volunteers. In the face of such chaos all around us, we have remained focused on the work we perform for our community. SRNA staff have been remarkably creative in delivering services and programs. We have moved seamlessly into the virtual world to bring you education and support. We held our Quality of Life Family Camp, support group meetings, and the Regional Rare Neuroimmune Disorders Symposium virtually this year, and were able to reach people across state lines and globally. We were able to expand our podcasts and webinars this year, focus more on research, and were able to launch the ABCs of NMOSD podcast this year to educate our community. As so much of our lives and our concerns have been focused on the pandemic, we created a COVID-19 resource page and regularly update our information about SARS-CoV-2 (the virus that causes COVID-19) and its impacts on people with rare neuroimmune disorders. The interviews conducted by SRNA's GG deFiebre with Dr. Benjamin Greenberg have become a critical resource for people who are making decisions about receiving the vaccinations. We are grateful to our members, sponsors, and partners for your support of our work.
Like all of you, my life over the past year was turned on its head. I am so looking forward to looking forward. Listening to the infectious disease and public health specialists, it is likely that our society and our communities and our lives will slowly but progressively be able to open and expand safely. We will still need masks. We will still need to be aware of social distancing. We will still need to be diligent about washing hands. But slowly we will get our lives back. It is also likely that throughout 2021, our programs are going to remain virtual until it is entirely safe to travel. Let's hope that we can see each other again, at support group meetings, at our symposium, and at camp in 2022.
While the focus of this Annual Report is all the work we accomplished in 2020, our focus for this coming year is to grow the SRNA Registry. I have been doing this work for more than 25 years. My greatest disappointment and frustrations have been just how little we've learned about idiopathic TM and ADEM over that period. Great strides have been made in NMOSD. MOGAD and AFM have been very recent discoveries. The only way for the medical world to understand ADEM, AFM, MOGAD, NMOSD, ON, and TM, is for you to be willing to share information about your experience. With greater understanding, better acute treatments, more effective long-term treatments, and then ultimately, cures, could be possible. In my mind, cure means that we know enough to avoid the first attack before it happens. That will require us to learn and understand so much more than what we know today. The SRNA Registry is a great way for us to move this critical process of understanding forward – on ALL the rare neuroimmune disorders under our umbrella. Your investment in this project would be about 45 minutes of your time through sharing your experiences. As we learn more, we hope to follow your experiences over time. We need to help medical researchers who are studying these rare disorders.
I urge you to get involved in the critical work SRNA is doing. Please do this for our community and for yourself!
I hope to see you and my mother and my grandchildren sometime soon. Please take good care of yourselves and each other.
Sandy

From
121 countries
Being diagnosed with a rare neuroimmune disorder can be isolating. These disorders are rare, and many people in our community have never met someone else with a rare neuroimmune disorder. Our mission at SRNA is to connect people with ADEM, AFM, MOGAD, NMOSD, ON, and TM with one another. We bring people together through our Walk-Run-N-Roll events, where people can bring their friends and families together and raise awareness for these disorders. We also connect through our Support Group Network, where 32 volunteers lead support groups. We connect by sharing stories through our Hope Ambassador program and our Blog. Finally, our annual Quality of Life Family Camp brings together children diagnosed with rare neuroimmune disorders, their families, and medical specialists for an unforgettable camp experience at the Center for Courageous Kids.
We at SRNA care about the members of our community and work to ensure everyone has access to the most up-to-date resources. Our Medical Professional Network is a growing list of medical professionals who have experience in providing care to those with rare neuroimmune disorders. Our Myelitis Helpline is a tool for our community to quickly get answers to their questions and be directed to relevant information. Our Resource Library contains a collection of over 500 resources that help educate our community. In 2020, we held our Rare Neuroimmune Disorders Symposium virtually, where over 400 people gathered to learn about the rare neuroimmune disorders from the comfort of their home. Finally, in 2020, we rapidly responded to the COVID-19 pandemic by creating resources on the impact of this pandemic on our community.
We believe that everyone has a role in improving the quality of life of people with rare neuroimmune disorders. Whether you support us with your time, expertise, or funding, you will be a key player in helping us end rare neuroimmune disorders for good. Join us. We can't do it without you.
All educational content and programs are solely developed by the SRNA staff, members of the scientific board and approved by Board of Directors.